PWNED!!











PWNED!!!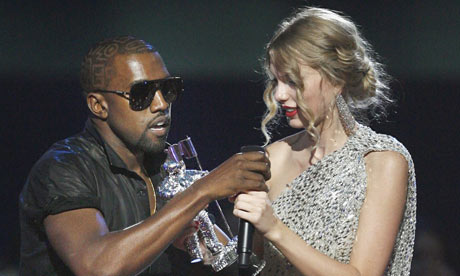 PWNEDDDDDD!!!!!!!!!!!!!!!!!!!!!!!!!!!!!!!!!!!!!!!
Royally.
I don't know who she is or what she's done,
but bitch got owned last night.
And what telly gold it made for.
Don't cry Taylor.
Not only did Kanye West hijack your acceptance speech,
but you got the Beyonce "Light-Shines-Out-Of-My-Booty" Knowles
Seal Of Approval.
THINK OF THE ITUNES DOWNLOADS.
When Kanye jumped up and said what he said...
a part of me cheered.
Until i remembered i had a heart.
It's like that feeling on Deal or No Deal,
when they've went all the way to the end
and you see the £500 in their box.
And you applaud
and laugh
at
this poor, pathetic human.
(The one that's NOT Noel Edmonds)
And then the guilt seeps in:
"oh, that could have been me"
"ohh, but her sob story"
"ohhh, look how they all feel really bad for her"
But i'll never be Taylor Swift.
I've never heard her sob story.
And i'm pretty sure that SOME of the audience cheered...
Don't cry Taylor...
It could have been worse...
No charisma
is better than Lost charisma.
(Russel Brand)
And no charisma
is better than
LessThanNo Charisma
(The Twilight Zombies)

In other news...
i can sexually link myself to myself using six steps.
Possibly.
And if the news is true
(i await a text back to find out whether it is)
i refuse to kiss another man, woman or gaga for the rest of my time in Newcastle.

Further than Newcastle, actually.


Anywhere North of Leicester...

These are sad times in which we live.

IN OTHER NEWS,
this means that i can trace SIX WHOLE PEOPLE back to their selves through a series of
"Sucked off"s
and
"Had sex with"s
and
"Was in love with"s
and
(to be safe)
"Kissed"s.

Aren't I wonderfully bored?
For a moment, there...
i thought i had a seventh...
alas...
not.